LOST Season 6- Current News
Monday, January 19, 2009 @
03:01 PM
Please acknowledge that  the site  management cannot assume responsibility for advertisements posted by  Google or any third party.Please also note that LOST news items are kept  on this post for the period which they  are relevant
The sixth and final season of LOST  concluded  on May 23 2010  with a 2  1/ 2  series finale entitled, The End.The LOST season  6 regulars included actors, Naveen Andrews, Nestor Carbonell, Emile de Ravin, Michael Emerson, Jeff Fahey, Matthew Fox, Jorge Garcia, Josh Holloway, Daniel Dae Kim, Yunjin Kim, Ken Leung, Evangeline Lilly, Terry O'Quinn and Zuleikha Robinson.Keep scrolling for the latest LOST  news  regarding the series finale and  the  aftermath converage of the series!
Following the  conclusion of the series finale of LOST on May 23 2010,   ABC network has decided to show a special episode  of Jimmy Kimmel Live entitled "Aloha to Lost". The  host of the program, Jimmy Kemmel is indeed  a devout fan of LOST and as a result of his devotion to the series, he will be spending the entire one hour episode dissecting the  series  with  LOST executive producers,Damon Lindelof and Carlton Cuse. Furthermore   LOST  cast members Naveen Andrews, Nestor Carbonell , Alan Dale  Jeremy Davies, Emilie de Ravin, Michael Emerson, Matthew Fox, Daniel Dae Kim, Terry O'Quinn and Harold Perrineau will  be  apart of the program.   Although  cast members, Jorge Garcia, Josh Holloway and Evangeline Lilly   will not be  joining their colleagues in the studio, they will still be apart of the program. Actor ,  Henry Ian Hewivkk and Yujin Kim  are currently not scheduled to appear. The episode will commence  on  Monday , May 24 2010   at 12:05am  eastern standard time. Please note that   the program  will also  be posted on the site  by 12:00pm eastern standard time on May 24 2010.  In addition to this,  ABC  will also be airing 2 hours of LOST  themed  programming prior to the  series finale, which provides a recap of the series.Be sure to tune in!
UPDATE: You can now watch  the complete Jimmy Kimmel Live special emtited: Aloha To LOST  on our site at http://abbaskarimjeeweblog.com/2010/05/24/jimmy-kimmel-livealoha-to-lost/.
Indeed  as the filming for the final season of LOST has  wrapped, the cast members are moving on and Evangeline Lilly is no exception .  The actress, who portrayed the character of the fugitive, Kate Austin on LOST has  officially agreed to co star in an upcoming  science fiction film entitled, Reel Steel.  The film  will be directed by  director Shawn Keby . The premise of the story is with regards to  former boxer ,  Hugh Jackman played by actor Anthony Mackie who with the help of his  distant son,  trains a robot to engage in boxing.  Lilly's character will be that of an acquaintance of  Hugh. The producers of this exciting  film are Steven Spielberg and Robert Zemeckis  who have based this film on a classic episode of Twilight Zone. Lilly is wished best of luck with her role on the film and we look forward to seeing  the feature in the foreseeable future.
 Thanks to a swift change on  Emmy Submission policies made  by the TV academy,  LOST will eligible for being considered for the Emmy award.The vote which  the academy held recently onMay 19 2010,   brought forth  change in rules which now allow for the 2 1 /2 hour finale to be submitted for  consideration. Prior to  the vote, finales exceeding twice the time of  a regular  episode were not allowed to be considered. Indeed we are pleased that  LOST can  be considered  for the EmmyAwards and hope that the show will receive recognition  for its excellence!
Indeed  there has been a great deal of confusion regarding the LOST series finale entitled, The End. In  addition to the  mind bending  yet conclusive series finale which gave viewers plenty to process,    scenes were shown during the closing credits which depicted the oceanic plane having crashed. Many viewers  confused this to mean that  the characters had indeed all been dead during the  entire  six seasons of the finale . ABC  issued a statement which clarified the issue  indicating that "The images shown during the end credits of the Lost finale, which included shots of Oceanic 815 on a deserted beach, were not part of the episode but were a visual aid to allow the viewer to decompress before heading into the news," Readers can therefore be assured that the island life was indeed  apart of the character's real life. Were  you confused by the scenes? Does this give you some clear insight on the finale? Drop us a line in the comments section further below.
With the end  of LOST having passed,  many viewers   have been pondering  about how those who  survived  the finale lived out  the rest of their lives. According to actor  Michael Emerson,   there  will be further  conclusion to this unknown factor. The conclusion will be seen in  a  special feature in the entire LOST   DVD collection entitled, 'The New Man in Charge', which gives  viewers a look into exactly how  Hurley and Ben went about performing their duties towards the island.
For those people that want to pony up and buy the complete Lost series, there is a bonus feature, which is… you could call it an epilogue," Emerson said. "A lost scene. It's a lot. It's 12 or 14minues  that opens a window onto that gap of unknown time between Hurley becoming number one and the end of the series. It's self-contained, although it's a rich period in the show's mythology that's never been explored, so who knows.
Readers should also note that this special clip will also a be a special  feature  of the season 6 DVD set.
Be  sure to find out how   Hurley and Ben spent the rest of their days by  purchasing your copy of the complete   series DVD of  LOST on August 24  2010. Will you be  purchasing the collection? Do you look  forward to seeing more on   the island's new leadership? What are your predictions on how Hugo and  Ben ran the island? Sound off in the comments section  below!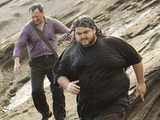 Actor  Naveen Andrews[41]  split up with his girlfriend of 12 years,Barbera Hershey[62] , reports People .The couple  first met when both of them were   working in  the production for the film entitled,   Drowning on Dry Land. Andrews of- course,  portrayed the character of  Sayid Jarrah  throughout  all six seasons of LOST.Andrews'  manager has revealed that he has been seperated from Barbara for the past six months.It should be noted that the couple had the ongoing strain of Andrew's son who he had  in 2005 with  another  women  when he had separated with Barbara for a few months.Best  wishes are extended to  both Andrews and Barbara  for the future.
As LOST has come to an end  so does MSG'S television personality, Al Trautwig's weekly LOST  video recaps. MSG extends its final invitation to readers to visit its LOST video page   to listen to Trautwig's thoughts on the finale at  http://video.msg.com/Home/Lost-Thoughts-The-End .Trautwig's  recap  of the  serie finale, The End includes   a review of the thrilling finale as well as his  interptretation of   its  signifcance. Also, remember that you can check out  MSG'S  exlusive LOST galleies including "Before They Were Lost" (photos from the stars' early years) http://www.msg.com/events/lost/photos-before-they-were-lost-cast-s-pasts-1.654 and Since They've Been Lost" (the roles they've scored after landing on the island)! http://www.msg.com/photos/since-theyve-been-lost-actors-next-moves/josh-holloway-plays-james-sawyer-ford-1.32732. Special thanks to our  friends at MSG for  sharing Trautwig's videos with us  and working with our community over the past year!
Our new friends at Playsteria are inviting  you to check out their  new LOST innovation. The company has begun developing games for  entertainment apps such as the  Iphone and Ipad and Among these games is  a new  LOST game entitled ""Unlockies: LOST Edition where LOST fans can  merge the facial features of   8 of  the main  characters throughout the series to create  one multi face  LOST character! This new game can be downloaded for free from the Apple Online Store.Be sure to read the full details   from Plasyteria directly below and download the game by visiting app's iTunes link at: http://itunes.apple.com/us/app/unlockies-lost-edition/id373959839?mt=8
We are Playsteria, a new game and entertainment development company. We've recently started developing games and entertainment apps for the iPhone and the iPad, and we've just released a new entertainment app about LOST. We have a free app called "Unlockies" where people can merge 9 different character faces to create their own funny characters and then set the image to it's unlock screen wallpaper. Most people are downloading it because it's free and can offer some funny to share them with friends or even through Facebook (we've added this option too), and we've decided to release a new version of this app based on LOST. That is, "Unlockies: LOST Edition" is now in the app store to be downloaded for free for every LOST fan. There you can merge 8 LOST character's faces: Locke, Jack, Sawyer, Kate, Hugo, Jin, Sun and Sayid and then put them as your wallpaper or simply show it through Facebook to see your own funny creations. Can you image, for example, Locke's face with Sayid's hair and Sun's mouth? Sounds crazy, huh?And you can also check out our webpage to see other games we've made: http://www.playsteria.com!
LOST     actor,Nestor Carbonell has officially agreed to  appear in a  multi episode story arc in  the  upcoming fifth season of the cable network series, Psych reports Fan Cast. The actor  will  be playing the role of,  Delan Rand, who is a rival   character to series regular,  Shawn Spencer  . According to Fancast, Rand is  a "criminal profiler who over the course of two episodes will shape up to be Shawn's professional – as well as romantic – rival". Carbonell of course ,played the  immortal  character of Richard Albert   throughout the course of the final four seasons of LOST.   LOST viewers will recall that Albert   was  last seen flying  away from the island in the series finale after  discovering that he had regained mortality and thus wanted to live.The episode  of Psych in which Carbonell will  first appear in is scheduled to  debut  on July 14. Congratulations are extended  to Carbonell for his new  role. We  look forward to seeing him   on Psych this summer.
Take a look at the sneak peek photo of  the upcoming   clip, entitled The Man in Charge will be released on August 24 2010 as a extra DVD feature  in the LOST Season 6 DVD  box.
As previously reported, the  12 minute clip will  show viewers  how   Hurley[ George Garcia] and Ben [ Michael Emerson] ran the island following  the  dramatic conclusion to the series.  According to Entertaintment Weekly's Adam B Vary ""There are some good surprises." And yes, "it does answer questions."
The specific photo below shows  Benjamin Linus  maintaining one of many Dharma Stations, some of which he will be shutting down.What do you think of the photo below? Sound off  in the comments section!
This  was originally reported by Entertainment Weekly
As previously reported, there is still more resolution to come in terms of various unsolved mysteries presented throughout the series of LOST. This will be available as special feature entitled "The New Man" which will be relesed in the full LOAST season 6 and series DVD boxset which is to be released on August 24 2010.
These mysteries will be directly tied into how Hurley [ George Garcia] and Ben [ Michael Emerson] ran the island, following the events of the thrilling series finale.
Indeed as LOST actors keep  moving  on, actor George Garcia is no exception. The actor, who played Hurley on LOST is scheduled to appear in a guest role on the popular series, How I Met Your Mother, according to TV Guide.
Here is a description of Garcia's role , as  seen on TV  Guide's press release of this news item
Garcia will play Blitz, a college friend of Ted, Marshall and Lily, who has terrible timing, always leaving a room right before things get interesting. When Ted misses a Thanksgiving eve party that Blitz attended, he wonders if he's now the bro with bad timing.
The episode in which Garcia will appear, will Debut sometime in November 2010. We look forward to seeing the actor of How I Met Your mother!
LOST  Untangled
Dissecting LOST – Comedy Style!
[youtube=http://www.youtube.com/watch?v=MRZ7PnitoSc&feature=player_embedded]This  Week's Rating
The 150-minute finale averaged 13.5 million viewers and was the show's highest-rated episode in two years. However, the hype surrounding the finale didn't translate to record-setting numbers. (ABC suggests that 20.5 million unique viewers tuned in for at least six minutes throughout the episode.)
Rate That Episode
[polldaddy poll=3247546]
Next Time on LOST
Lost: The Final Journey : A series retrospective with a focus on the final season. Also: behind the scenes of the series' 2004 pilot episode; interviews with past and present cast members; a look at the series' impact on popular culture. [ TV Guide]
The End : In the series finale of LOST, the battle lines are drawn as Locke puts his plan into action, which could finally liberate him from the island.[ ABC]
[youtube=http://www.youtube.com/watch?v=b_POJ6bnJAg&feature=player_embedded]
[youtube=http://www.youtube.com/watch?v=LkcIAw6HY6w&feature=player_embedded]
[youtube=http://www.youtube.com/watch?v=bU4N1SyiapM&feature=player_embedded]
[polldaddy poll=3227199]
Schedule of Upcoming Episodes -Season 6
April/ May 2010
| | | | |
| --- | --- | --- | --- |
| Date | Time | Episode# | Episode Title |
| April 27 | 9:00pm | 9 | Ab Aterno |
| May 4 | 9'00pm | 14 | The Candidate |
| May 11 | 9:00pm | 15 | Across the Sea |
| May 18 | 9:00PM | 16 | What They Died For |
| May 23 | 9;00pm | 17 | The End Part 1 |
| May 23 | 10:00pm | 18 | The  End Part 2 |
All  times listed are with regards to the schedule of ABC channel[USA and Canadian residents only] and are noted in Eastern time.Please note that  times are only listed for  upcoming season 6 episodes.
LOST Finale Event- May 23 -24 2010
| | |
| --- | --- |
| LOST – Retrospective Recap | 7:00pm |
| The End Part 1 [ Series Finale] | 9:00pm |
| The End Part 2 [ Series Finale] | 10:00pm |
| Jimmy Kemmel Live Show:Aloha To LOST | 12:05 am |
All times have been noted in eastern standard time. Please note that all  scheduling info is only applicable  to ABC Network [ residents of USA and Canada]. It should also be noted  that The End Part 2 is longer than the first portion of the finale , The End Part  1 by a half hour. The finale will therefore  conclude  at 11:30pm eastern standard time.
[slideshow]
Countdown Centre
There are 0 hours worth of  LOST remaining.
The series has now finalized!
Trivia of the Week!Test your Lost Knowledge every Week  to try to be the best at the test!
[polldaddy poll=3169179]
The correct answer for each week's trivia will be posted every Wednesday by 8:00pm eastern standard time.Results for the trivia will be accessible once the correct answer has been posted.
We also welcome your Trivia  of the Week!  Send it to us at blogmanagement@ymail.com
When submitting your question be sure to:
1Provide four options for answering your question
2. Indicate the correct answer in your correspondence.
3.If you wish to be credited for  your submission, please indicate this in your e-mail.
Should further direction be required, please  feel free to contact us at the aforementioned e-mail address.We look forward to your submissions!
Scene of the Week
The Scene of the Week section is our newest feature where we post the most memorable or significant photo in   each week's episode , discuss  the reason for our choice and the pros and cons of the scene.  Take a look  at what we have to say and   then  share your thoughts in the comments section below.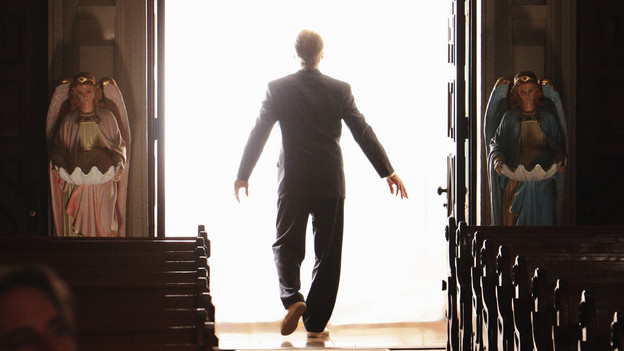 Scene : Christian leads the losties into the  next level  of existence.
Significance – This is scene  is well done as  it   clearly explains what the sideways world is - a sort of purgatory  in which  the Losties had moved on to after death. This after life was a place they had created had to find each other  and live the lives  they were unable to keep when they were alive. The scene of Jack leaving is touching because although we know that he had to sacrifice  everything for the island , he  got what he wanted in this after life, just as all of  the other Losties did. We can be pleased to see that now they  have rediscovered each other they are moving on  to another plane of existence where they are united! Although many mysteries  of the island remain  unanswered, we can atleast be pleased that the ultimate fate of the  characters was discovered.   A  beautiful conclusion!
A friendly  online environment to discuss LOST!
-Post a question  and/or answer a question
-Shareyour opinion on the season
-Actor news
News  Item Discussion
Elizabeth Mitchell returning – possibly in the finale,  what will be the nature of her involvement? Will she be seen by  Hurley   as a dead one or will she be seen in the alternate reality>
LOST Finale Event – Will you watch all 5 hours [  2 hour recap, 2 hour series finale and  1 hour Jimmy Kemmel show]If not, how much will you be watching?
Will you be watching the pilot on May 22?
The return of Anna Louisa
Evangelline  Lilly's  costar role in  Real Steel- Are  you excited?
-Any other Lost related topic which interests you!
Episode Discussion
Happily   Every After
- Desmond's return to the Island and Widmore's  desire to  use   his resistance from  electromagnetics  in the war
Contrast Desmond's  lifestyle  to  his life in the island time line?Note how Widmore gives him his finest drink
Desmond and Charlie's encounter -   sees the warning on his hand
Desmond and Faraday's encounter
Ellouize Hawking -  comment  on how Desmond was not ready to see the list  – what does she know? Is she working  with the MIB in the alternate reality?   Exactly what and how did she beoe aware  of the two timeline
Why does Desmond suddenly  understand the importance of the mission? Will he end up with MIB?  The sacrifice he will make.
Sayid's shooting  of Widmore's men   and informing them of the danger- Can he still be trusted?  Zoe remains.
Desmond   wanting  the list  of  the passengers- Does he want them to tap  with their subconscious to connect in some  way  with the island time line?  Is he essentially bringing aspects of the timeline  to the passangers in their offline reality? Will he be the one who will help the passengers  merge with the island time line? What will be the consquence of this?
Everyone Loves Hugo
Ilana's death due to  dynamite explosion- Who will protect the candidates now? Are they in danger?
Hurley's  fortune in the alternate reality [ appearance of Pierre Chang]
- Encounter  with Libby, initial   unfaithful response to her behaviour but ultimate receptiveness thanks to Desmond's advice
-  Libby and Hurley;s rememberance  of the alternate time line -  is it when two individuals  who fell in love in the previous reality, remember   their previous relastionship the moment they fall in love in the  off island reality
- Michael's reappearance -  atte,pt for redemption and explanation of Whispers- further adds to how the Island is the place which contains  all which  is / was evil- smoke monster and sinners, touching moment towards the end of the episode when Michael extends his apology to  Libby
-  The division between Richard and Hurley, . Which side's plan will prevail? Will they both end up in battle with each other to execute their way of defeating the MIB?
- Locke pushing Desmond in the well as a way of  preventing Widmore from defeating him. Why did  Desomd reveal his advantage? Is he so fearless/ confident that the MIB will be defeated that he is willing to reveal how he will be defeated?
What will be Desmond's fate?
Why did Desmond  run into Locke?- something to do with reuniting with Jack to   establish  his awareness of the other reality. Or is  Desmond able to see [ from 2004], the fate  of Locke in 2007 and how he has been taken over by MIB? Has Desmond misconceived him in the off island reality to be  the  MIB because of his vision of the MIB as Locke in the island time line.
Locke and Hurley's agreement- What  will their discussion bring about? Will  Kate, Sawyer and others reconsider their position  once they learn about the evil which the MIB is?Will  vice versa happen to some extent? What will Sun do when she is provided with Jin's location?  Has the first  battle   in the war arrived? Who will be  on the good side ? Who will be on the bad side ? Lets hope we find out!
The Last  Recruit
Island Reality
Locke's statement about  how he  was in the body of Jack's father on the third day of the island- another mystery revealed. However, Christian was not in the coffin meaning that  MIB took  over his body,  but why did he  not do  the same  with Locke? Why did he have to be in another body that looked like Locke when he could take over the original in Christian Sheppard?
Claire's comment about how Jack will submit and Jack's reconsideration of supporting Jacob's cause or joining MIB?
Sawyer's plan to    steel Locke's boat  and leave with Kate, Jack, Sun,  Lapedius, and Hurley- Claire catching them and her willingness to listen  to Kate, who  made sure she achieved what she came to the island for. Has Claire  begun the process of regaining her sanity?
Locke's instructions to Sayid about killing Desmond . Sayid's realization that Nadia would not  approve of his method in runiting with her and how he  would not be the same man she fell in love with. How he lied to Locke.   Has Desmond [ theweapon against MIB] found a way of turning against him by   brining  purity into those  who have been influenced by evil ? Is Desmond able to do this because of how he has become enlightened? Is there still hope for Sayid after all?
Jack 's discussion with Sawyer- hgow it does not feel right . His valid reason of  going back to the island   as   the survivors were something MIB  was scared of  and hence wanted to  use to leave  with the  island. Did he go back to take the place of a candidateor did he, as Claire, predicted  submit to the will of MIB  ?Is Jack really with him?
Sun and Jin reunion – touching and heartfelt moment- What we have always been waiting for. However, was it less emotional and dramatic then anticipated for their three year seoeration and  longlasting search?'Discuss our Scene of The Week comments and weigh in  your thoughts. Also,   feel free to comment on this new feature.
Charles Widmore's betrayal  and the start of the war with the  bomb attack
Alternate Reality
- Sun and Locke's hospital  visits
Note how Sun  shows fear of Locke as if she recognizes he is the MIB  from the island reality.
Jack operating on Locke – Was this apart of  Desmond's plan or was  it to kill him because he  noticed the evil he was in the alternate reality just like Sun appeared to. When Jack looked at Locke, did he only remember him from their encounter on the airport or  did he feel like he remembered him from somewhere – a.k.a – the island!
Claire and Jack's  encounter thanks to Desmond- the discovery of how  they are siblings
Note how Jack's relationship with his son has really improved- His son wanted to eat dinnner with him, wished him luck for surgery ,  felt sad for  his father having to listen to the will, engaging in  friendly humour with his dad before the surgery
Ilana in the alternate reality – as an attorney
Sawyer arresting Kate and  Sayid-note how Sayid 's fear in the island reality becomes a truth in the alternate one when he seperates from Nadia
Kate's theory on why  Sawyer  did not arrest her at the airport –  to avoid  the acknowledgement  of how he was at Australia .What  do you think about this?
The Candidate
Island Reality
Why is Kate not a candidate? Theories?
- Locke"s deception of the  bomb -  how he  portays  Widmor as attacker
- Jacke's   theory that  MIB wanted them to fight amongst themselves
- Sawyer's interference and  how he got them killed
- Sun and  Jin's heartbreaking and sorrwful moment – In our opinion this was the most tragic   loss in the series. They had struggled so long withbeing apart and trying to reunite only tohave a short reunion. Although  it was fitting that thrydied together , Ji Yeon is now an orphan  because of Jin's decision to stay behind. She will now be raised  under the same trauma in which   Sun went through with her parents
Sayid's   slight return and effort for redemption  by informing them of  Desmond's wehereabouts and  thus significance-  noble sacrifice – Did Desmond heal him to a certain extent?
Frank –   What happened to him. Although it seems logical to assume he is dead , we did not see what happened to him. Do you think he could still be alive?
Claire- Will she rejoin the  losties when  she discover's what MIB did?
MIB's next course of action -
What will  the remaining survivors do next? Will  they touch base with Desmond?Will  we see Alpert's team shortly? Will widmore help? Who will be the candidate?
Alternate Reality
-  Lockes succesful operation ,  he is a candidate for surgery
-   Anthony Copper 's paralysis ,  the plane crash which Locke tells Jack about and how essentially Locke believes that he should suffer for he was responsible for his  father's  paralysis  in speaking and movement
Locke's  talking about the hatch  in his deep sleep –  he had just been through a life threatening incident- Note how all those who have had vivid memories are either struck by love or death
- Claire -  What was the significance of the box she was holding? Also, note how she and Jack will have the chance to develop their relationship –  do you think by spending  time together they will  remember their  island  life?
Jack  unknowingly repeating Locke's  suicide note to him in the alternate reality when trying to convince him to take the surgery
Across the Sea
Foster mom of Jacob and MIB-   her reason for killing the mom – to prevent bthem from being raised in a corrupt society
Why wasMIB special? Was it to do with his unique abiity to see the dead or was it because she sensed how he would be a significant  aspect of the island?
Who is this lady?How was she given the responsibility of protecting the light? How long had she been alive for? How was she given powers?
Why  did she  prevent MIB from leaving the island but not Jacob? Was it truly just because of her excessive love for him or  did she know what he would become?
What was the light? How did it come to be? Is the  source  of  goodness or evil? The mother  indicates that everyone wants it and if  it  goes out in the island it goes  out everywhere. But, how can  it be  the source of goodness if  it is the place from where the smoke monster came? Could it be a combination of both. After all the  foster mother says  it  is a place  of "life, death, rebirth".
Note how she prevnted them from harming each other.- note MIB'S  immortality
MIB's ability to see  the dead- his mother' information about the truth-  how  he leaves
Jacob's  willingness to trust his mother -  how he believes in the reason, yet  he shows reluctancy   in taking her place
MIB'S murder of the foster mother -
Jacob  created the smoke monster and unleased the ultimate evil of the world.
Is his brother still apart of the evil incarnate or  is  the evil incarnate a separate identity which just took  the brother's body because of how went in the light.  We think MIB  is still in Smokey.   This is why he  tells Kate that his mother  was crazy and goes on about how  issues  which could have easily been prevented brought him in these unfortunate circumstances.
Either way, who is Smokey? How did he come to be? Who created him? We have still not received answers to these questions.
Also, note  the wheel. MIB was going to use it to escape until his mom came and attacked him. However, we learn that the past others created the wheel and were using as a way to leave, thanks to the energy from the light.
Adam and Eve skeletons. We learn that the skeletons were that of   the foster mom [ whom   the MIB killed] and   MIB [ who Jacob inadvertently killed] , whom Jacob buried.
What They Died For
Island Reality -
The candidate's discussion with Jacob -
Jacob's  reason for why each of the people on Oceanic 815 were brought to the island – because they needed the island just as much as the island needed them- they had flawed lives in which they could not find what they needed, each of them were lonely
Note the reason for why Kate is not a candidate – since she became  mother to Aron
- Jack volunteers to be the new candidate- how will he kill the MIB? Will he discover the use of the  light? Does Jacob tell him anythingelse?  -
Richard-  Will we  see him again? What exactly happened?Could he have died by the hands of MIB?
Myles -  leaving  for the jungle  Ben' willingness to  lead the island and how he will kill the candidates  Charles Widmoe and Zoe-     Ben's betrayal,  Charles Widmore's  secret about  how Desmond is the failsafe for the islnd – the last resort.
Note how Ben kills Widmore because he does not get to  save his daughter  Alternate Reality</strong>  -  Desmond's  goal to get Locke  to  let go so he can achieve what he did in the island reality. The evil Ben is back!
Alternate Reality
-Ben's encounter with Desmond , his  flashback to the island  time line and how Ben is  now a believer  – John is ready to  get off the chair!
Jack's response to  Locke's belief bout fate  -
Ben and Rousseau- romantic attraction between the two,  note how both were essentially parents in the island reality  to  Alex and how she views him as a father figure in the alternate reality  – her father's demise when she was 2
Claire becoming apart of Jack and David's life  – the concert -  Who do you think is the mother of David? We are betting that it is Juliet!Share your thoughts with us.
Desmond connecting with Sayid and Kate- the promise he  asked them to make-Is he trying to merge the two timelines by  uniting them all together where they will remember the island timeline completely and the full context in which they all knew each other?  -
The return of Ana Lousia – How did you feel to see her again?Why is she not ready for Desmond's plan ?  -
note how all in the alternate reality seem to be heading towards the concert- Jack, David'mom, Kate, Myles, Sayid,Hurley, Charolette,  and hopefully more!
How do  you think   LOST will end?Sound off below!
The End [ Series Finale]- Discussion
The discussion overview is  currently being  updated.It shall be ready shortly.
Remember that these are just  suggested discussion topics.You can discuss any  LOST related topicJust remember to follow our official Discussion Policy so that all readers  feel safe and enjoy themselves on the site.Now get commenting!
29 Responses to "LOST Season 6- Current News"